WELCOME! BENVENUTI!


In the site you can find a detailed curriculum vitae. In the page Works all the scores are listed by instrumentation, many of which are downloadable in pdf format. Also you can find news about the prizes awarded in national and international composition competitions and, in the Multimedia section, you can play several music videos and mp3 files.




Visualizzando le pagine del sito troverete un curriculum dettagliato, l'elenco delle composizioni divise per organico, molte delle quali scaricabili in formato pdf, notizie circa i premi conseguiti in concorsi nazionali e internazionali di composizione. Inoltre, nella sezione Multimedia, potrete scaricare diversi video e files musicali.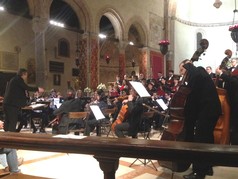 Ipse dixit

"A composer preludes like an animal burrows in the earth. Both do it because of an urge to seek. What impels the composer to this? A rule he puts on his shoulders like a penitent? No: he is looking for his well-being. He is looking for a satisfaction he knows that he can't find it without the preceding effort. One does not force oneself to love, but a precondition for love is to know, and to get to know something, you have to summon up all your strengths."

Igor Stravinsky, Poetics of music

"Un compositore preludia cosě come un animale cerca scavando. L'uno e l'altro scavano perché obbediscono al bisogno di cercare. A che cosa risponde questa ricerca per il compositore? Alla disciplina che egli porta su di sé come un penitente? No, egli cerca il suo piacere, una soddisfazione di cui sa bene che non potrŕ trovarla senza uno sforzo preliminare. Non ci si sforza di amare, ma l'amare suppone il conoscere, e per conoscere bisogna impegnarsi."


Igor Stravinsky, Poetica della musica

Permissible Licenses - Licenze d'uso

All scores in this website can be used in accordance with the Creative Commons Performance Restricted Attribution-NonCommercial-NoDerivs license (PR-BY-NC-ND). For details of this type of license see the following link


Tutte le opere presenti in questo sito web sono utilizzabili in accordo con la licenza Creative Commons Performance Restricted Attribution-NonCommercial-NoDerivs (PR-BY-NC-ND). Per i dettagli su questo tipo di licenza vedere il seguente link

Sweet and rough, for piano
St. Catherine's Church, Gdansk, 2015.08.15